OVERVIEW OF SUSTAINABLE DEVELOPMENT
PVFCCo's PRESIDENT & CEO UNDERTAKES THE HIGHEST RESPONSIBILITY FOR THE CORPORATION'S ENVIRONMENTAL POLICIES/ISSUES.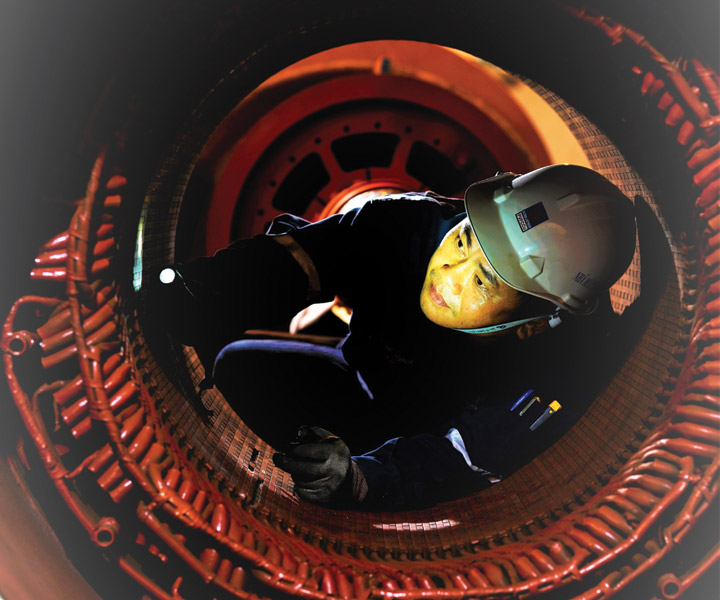 Sustainable development is a combination of three aspects: Economic development, social development and environment protection. Over the last decade, there has been an increasing global interest in sustainable development, a requirement for globalization. Sustainable development is a humanity goal and it is in line with the guidelines of the Vietnam's Party and the Government.
PVFCCo's core business activities are fertilizer and chemicals production and distribution. It is linked to the Vietnamese agriculture, farmers and rural livelihoods and affects 70% of the population. Through its economic strategy, PVFCCo adopts the sustainable development principle and its core values. Over the past 18 years of sustainable development, the motto of "Entrepreneur development to be accompanied by environmental protection and social responsibility" has been preserved and developed by generations of employees as an asset, a beauty culture of business. The Corporation ensures that the balanced and optimal implementation of the following targets: (1) Effective economic development; (2) Promoting social harmony, raising living standards and residential strata's awareness, especially focusing on agriculture and farmers; and (3) Improving the environment to guarantee long-term development for today's generation and generations to come.
With the mentioned above objectives, PVFCCo has taken steps to achieve its sustainable development targets, regulations and specific activities conducted by the Corporation.
CODES OF CONDUCT TO STAKEHOLDERS
PVFCCo has built a culture of "Professionalism - Efficiency; Dynamics - Creativity; Aspiration - Outreach; and Responsibility - Sharing", through a positive and professional work environment, fair employee policy and a friendly workplace. In particular, the achievements of PVFCCo are as follows:
PVFCC

o

has invested in a manufacturing plant system and an office building, which are well-designed, properly ventilated, well-lit and air-conditioned. The Corporation has achieved energy efficiency and provided good working conditions for its workers.
PVFCC

o

introduced key performance indicators (KPI) and improved their reward system. The Corporation also set up a framework to ensure a fair and professional working environment. At the same time, PVFCC

o

improved its human resource policies to ensure its employees have the amicable working conditions and career advancement opportunities.
Human Resource Development for parent Company: 81 capacity building courses were conducted for 6,018 attendees with a budget of VND 3,653 billion. The development program in 2020 achieved its performance target, met the corporate goals, and succeeded in delivering human resource courses.
Building Corporate Culture: The first PVFCC

o

Culture Handbook was published in 2011, with the values and standards of conduct applicable for all employees. The Handbook was disseminated to all employees and posted on the corporate website.
The Corporation provided customers with high-quality products, effective solutions and services as mentioned below:
Ensuring high quality products is a top priority. All Phu My fertilizer products, other fertilizers and chemicals are complied with registered standards.
To help farmers optimize the ratio of fertilizer usage and crop yield, PVFCC

o

partners with local authorities and scientists to organize cultivation technique workshops at experimental gardens and sample fields to train farmers.
PVFCC

o

maintains its warehouse and logistics management systems well nationwide, so that their products are delivered to farmers on time at reasonable prices.
In order to create products and services to maximize shareholder value, PVFCCo has carried out the following activities in 2020:
PVFCC

o

implemented and achieved production and business targets. In particular, profit before tax reached VND 848 billion, or 1.7 times higher than the plan assigned by the General Meeting of Shareholders.
To ensure optimal use and control of its resources, PVFCC

o

has invested in IT such as business support software, document management software and other innovative approaches. The Corporation also invested and built its own resources planning application software such as ERP, STOP, 5S, APC, System 1, RBI, KPI, etc.
The Board of Directors of PVFCC

o

provided guidance in streamlining the project initiatives. In 2020, 112 innovation initiatives benefited the Corporation in value amounting to VND 7.9 billion plus other qualitative benefits.
Science and technology activity was focused on 15 topics/items which were mostly completed and accepted in accordance with both the schedule and cost effectiveness requirements. The 2020 science and technology items shared the same points, i.e., strategy, long-term planning and practicality for the Corporation such as alternative sources for raw materials, optimizing the master maintenance cycle for Plants, etc. At the end of 2020, VND 20 billion was added to the Science and Technology Fund to ensure compliance with relevant laws and regulations, including those of the Corporation, and to meet the future demand for applying science and technology to initiatives, etc.
An anti-waste savings action program was launched in 2020. VND 438 billion was saved in total, fulfilling 185% of the plan. Savings mainly originated from input material costs.
PVFCCo has ensured that its business activities complied with the laws. PVFCCo has achieved the following results:
Total payments to the State in 2020 was VND 287 billion - achieved 225% of annual plan.
In working with strategic business partners, the principles and values applied were: Healthy competition, collaboration and advancing customer best interests.
Besides supporting Phu My Fertilizer Plant, PVFCC

o

also provided experts and skilled workers to support other national projects such as Ca Mau Fertilizer Plant, Ninh Binh Fertilizer Plant, Nghi Son Oil Refinery and Dinh Vu Polyester Manufacturing Plant, ensuring their operations run smoothly and efficiently.
The Corporation is committed to carrying out its responsibilities to the community and society.
Besides effective development and environmental protection, the Corporation was served both the employees and society.
PVFCCo is committed to environmental protection and globalization, such as reduction in greenhouse gas emissions, climate change, sea level rise, etc.
PVFCCo is confident that sustainable development is most effective when embedded in the organizational policies and guidelines, corporate strategy and business decision making. The Corporation believes that it can overcome challenges to develop a sustainable and long-lasting enterprise, preserve the environment and carry out its corporate social responsibility.
In particular, PVFCCo has implemented and achieved the following results:
In commissioning the Phu My Fertilizer Plant, PVFCC

o

has applied advance technologies in both safety management and equipment maintenance. This has stabilised the engineering operations and reduce energy consumption and carbon emissions.
For new projects, the Corporation has deployed only the most advanced production technologies to optimize effective usage of input materials, especially natural gas, and minimize carbon emissions.
PVFCC

o

complied with statutes, regulations and processes in production and business in accordance with the ISO 9001:2015, OHSAS 18001:2007, ISO 14001:2015 and ISO 50001:2011 standards.
REPORT ON SAFETY, HEALTH AND ENVIRONMENTAL PROTECTION

Safety, health and environment work in business is always the top concern of PVFCCo. As a production and trading company in the field of fertilizers and chemicals with high risk of fire and explosion, PVFCCo has determined that the exclusion or reduction of risks causing potential harm to human health and life, property and the environment is the highest responsibility of the Corporation.
Every year, PVFCCo's safety, health and environment work is continually reviewed and renewed with many improvements in terms of content, implementation method and performance. The safety, health and environment work has played an active role in prevention of accidents and incidents and contributed greatly to the fulfillment of PVFCCo's business and production targets.
With these achievements, since its inception, PVFCCo has always been proud of its pioneering work in ensuring the safety, health and environmental protection of Vietnam's Oil and Gas industry. This has enabled PVFCCo not only to achieve sustainable development, but also to ensure a safe environment for the community and society.
In 2020, the remarkable results that PVFCCo achieved in the area of health, safety, and the environment were recognized and highly appreciated by PVN and by other agencies, divisions and departments.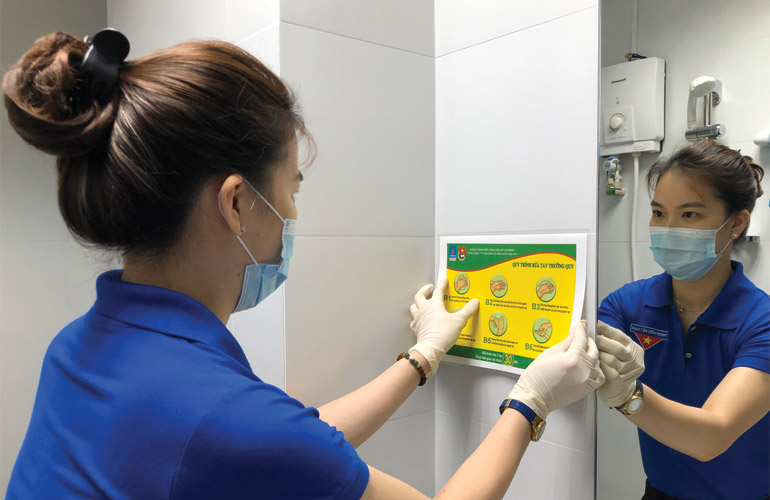 THE MAINTENANCE AND IMPROVEMENT OF THE MANAGEMENT SYSTEM FOR HEALTH, SAFETY, AND ENVIRONMENT (HSE)
The HSE management system was maintained at high efficiency according to ISO 9001:2015, ISO 14001:2015 and OHSAS 18001:2007. The Corporation's HSE management system was certified by DNV. During 2020, the Corporation also successfully completed the standard transformation from OHSAS 18001:2007 to ISO 45001:2018.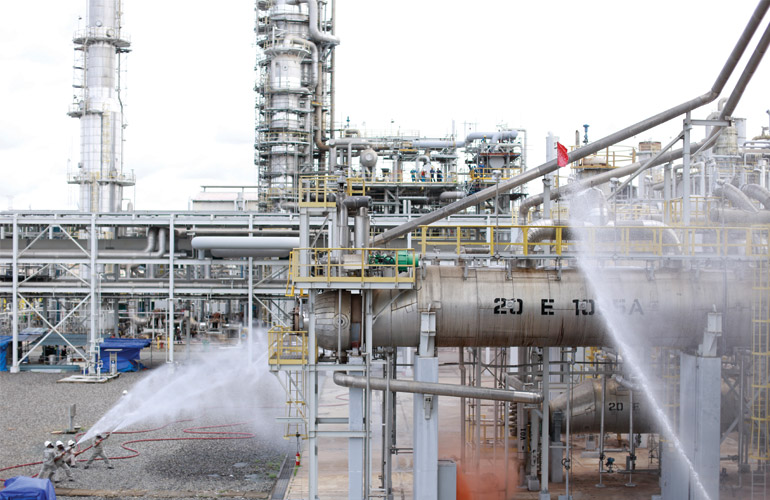 SAFETY - SECURITY, FIRE CONTROL, EMERGENCY RESPONSE
In 2020, the Corporation ensured safety in its operation and production with no labor accidents as well as fire and explosion incidents at Phu My Fertilizer Plant and its port warehouses. Highlight safety, security, fire control, and emergency response activities in 2020 include: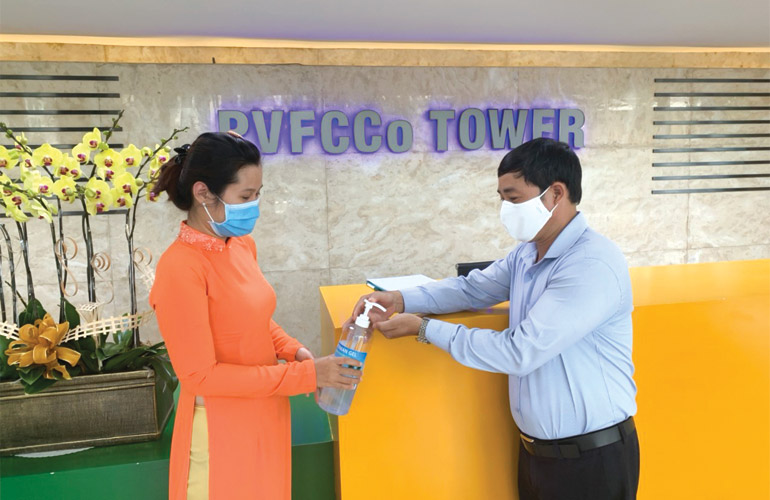 CARING FOR THE HEALTH OF EMPLOYEES AND PREVENTING OCCUPATIONAL DISEASES
In 2020, PVFCCo properly carried out employee health care. Here are the results:
As the financial support for employees in case of medical treatment and hospitalization, PVI Care, the employee insurance program, continued to be implemented and supplemented.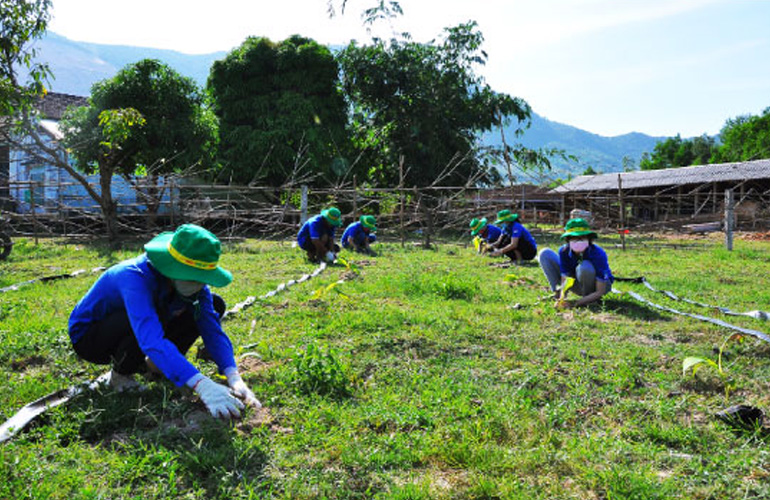 ENVIRONMENTAL PROTECTION AND WASTE CONTROL
The commitment to environmental protection and preservation is one of the most important commitments integrated into PVFCCo's production and business activities. To fulfill it, in 2020, PVFCCo completed many tasks to comply with the law to protect the environment: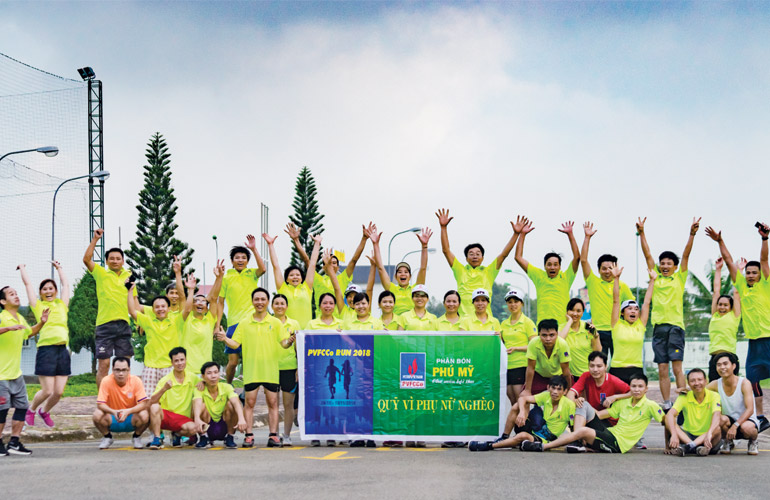 BUILDING A HEALTH, SAFETY AND ENVIRONMENTAL (HSE) CULTURE
Building the HSE culture is an ongoing process that helps heighten the staff's sense of compliance. In 2020, PVFCCo provided a variety of practical activities such as: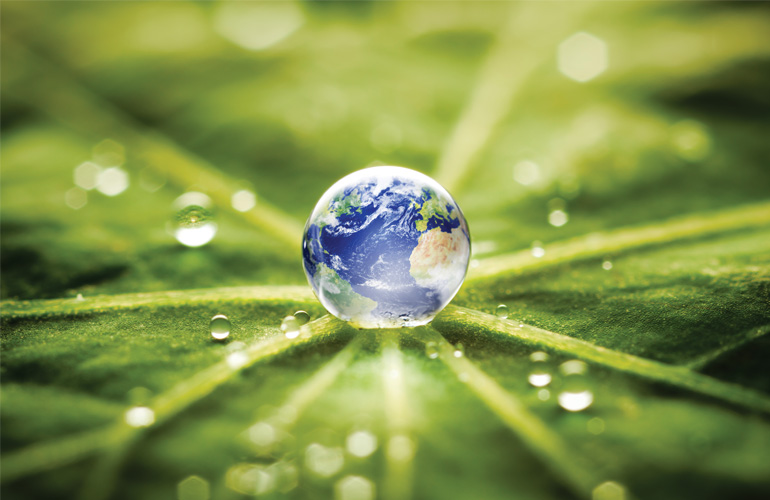 EFFICIENT USE OF WATER RESOURCES AND ENERGY SAVINGS
In 2020, Phu My Fertilizer Plant set up energy-saving and efficient energy use objectives. The performance results of these objectives were constantly monitored, reviewed and evaluated.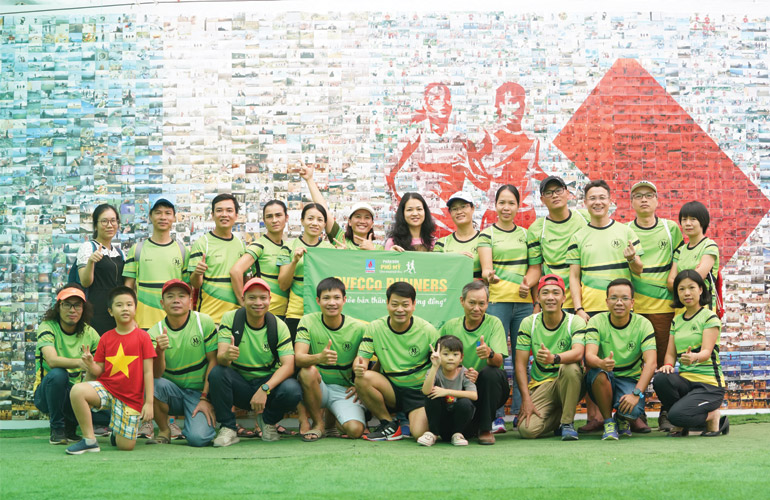 MAIN TASKS OF THE SAFETY, HEALTH AND ENVIRONMENT WORK IN 2021
Ensuring the safe and efficient operation of Phu My Fertilizer Plant to complete the production and business plan of 2021.
The overall maintenance of the Phu My Fertilizer Plant was safely and effectively completed in 2021 as planned.
CORPORATE SOCIAL RESPONSIBILITY REPORT IN 2020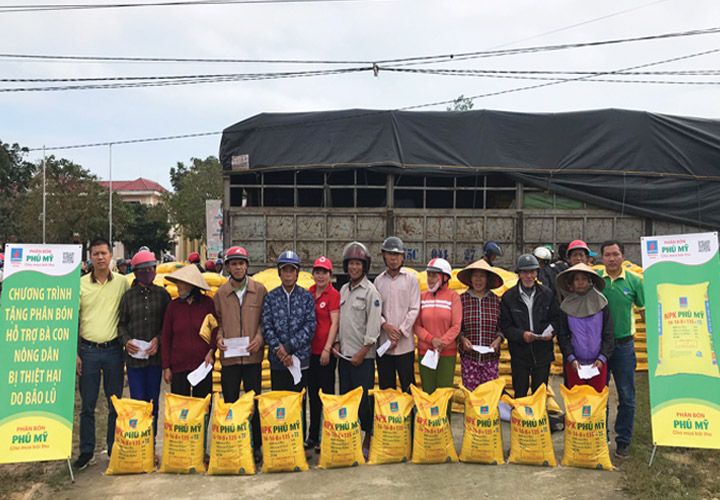 280 tons of Phu My Urea was presented to support farmers suffering from floods by PVFCCo.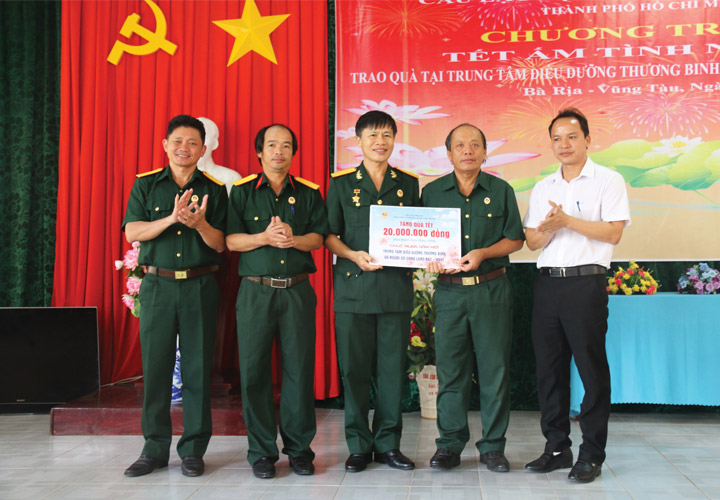 Gifts was presented at Long Dat Nursing Center for wounded soldiers and national contributors in Ba Ria-Vung Tau.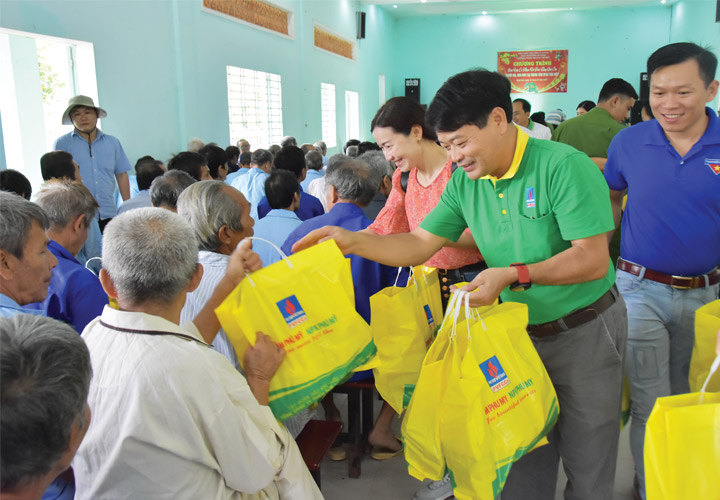 Giving Tet gifts to Center for Social Protection (Tan Hiep - Binh Phuoc).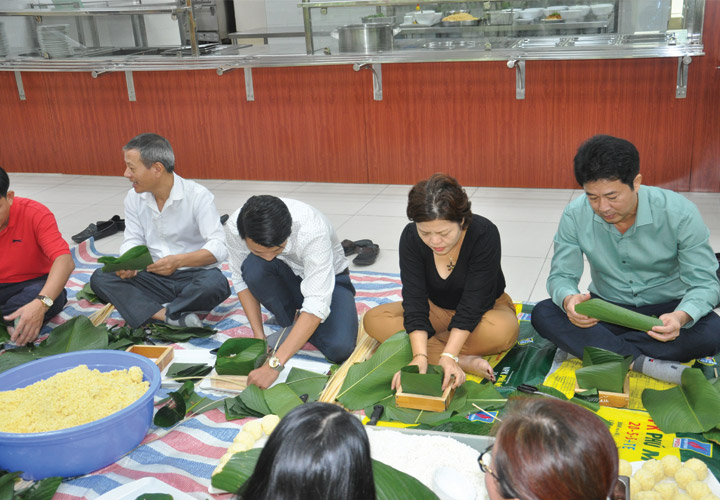 PVFCCo's employees actively participated in "A thousand cakes, ocean of gratitude" program.